​
​
​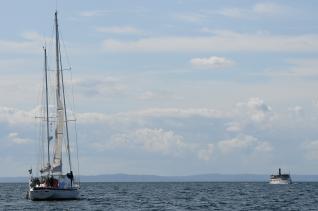 ​
​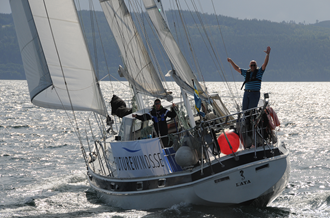 ​
Photo: Urban Lindström
​
​
Other
Tools for most jobs, mentioned only part of:
Socket wrenches, Welding, Circular Saw, Jigsaw, Drill, Dremelmaskin, Polishers,
​
Mixed parts o good to have stuff.
Instruction manuals for all major systems
Large ice box on the deck for extra stowage or picknic
2 barrels in stern for additional stowage
​
​
​
​
​
​
​
​
Comfort:
​
Stereo with speakers in cockpit and salon
TV 19 inch with DVD player, HDMI Connect to PC
Washing machine 3.5 kg
Toaster
Vacuum cleaner
Electric stove with oven
Alcohol stove in reserve
Kettle electric
Charcoal / barbeque
Refrigerators standard benchtop
Large refrigerator "well" over 100 liters with its own refrigeration compressor.
Freezer Thermo Products TB45
Microwave
Coffee Makers
Compl kitchen equippment for 8 persons
Preassure coocker
Shower in cockpit and in one of the toilets
Fresh water tanks: 250 liters 600 liters
Water heater
Hydronic heating throughout the boat
Fans in all cabins
2 toilets with electric toilets
Septic tank
The Wirie, wifi amplifying anyenna
Router Wifinät board with USB modem, 3G / 4G
WIFI directional antenna for extended range
Printer Scanner
Library of fiction and "boatbooks" Swedish
Cruising Guides across many areas
Dehumidifier
Air cleaner LightAir
Water maker Schenker 60 l / h
Diving compressor 100 l / min
2 diving equipments
Drinking water cooler
USB charger for mobile in all cabins
Cupholders in cockpit
Complete Setup sheets, pillows, blankets, towels, etc.
2 sunchairs
Hammock
Trolley
​
​
Energy:
​
Solarpanels 3X100W + 1x80W + 2x35W + 2X40W
Onan diesel generator of 12 Kw 220V
Consumption battery A600 748 Ah
Victron MultiPlus 12/2000/80 charger / inverter
Reserve Charger CTEK 300
Generator 12V on main 100 Amp
Sterling Pro Alt generator charger 130 Amp
LED lamps 12V lighting throughout the boat
LED strip in ceiling on Doghouse different colored
Lanterns LED new 2011
Inverter 12V to 220V, 300W
Diesel tanks 250 liters 600 liters +
​
​
​
Additional images